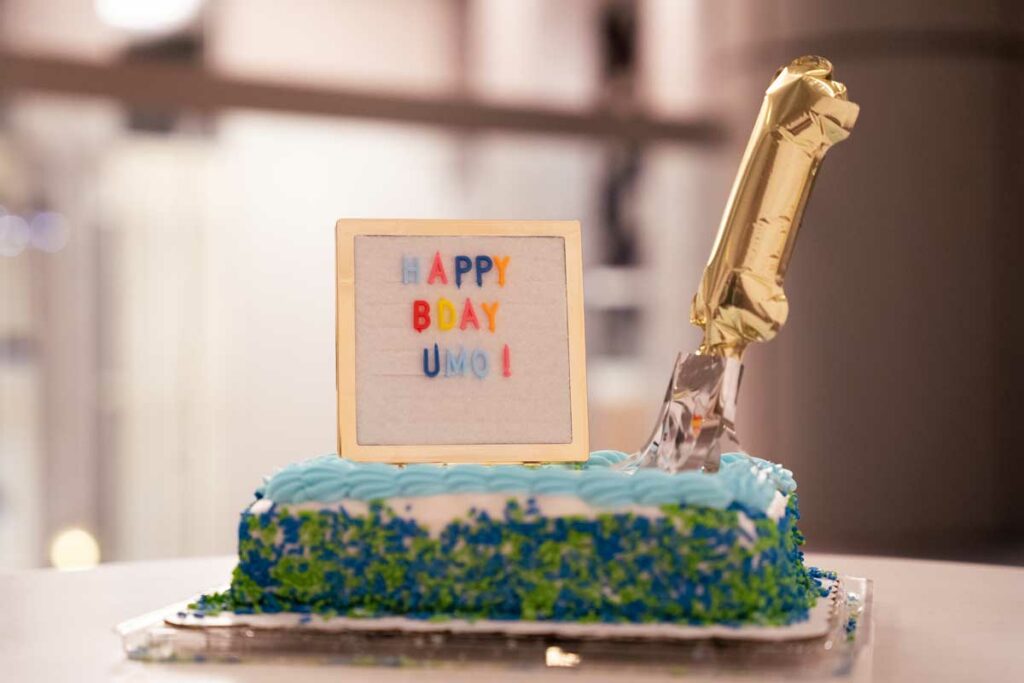 The past year has been a whirlwind of customer launches, processed payments, app downloads, and virtual meetings since launching the Umo brand in early 2021, but we're excited to pause and celebrate the first year of Umo!
Although Umo is celebrating its first year as a brand, the technology behind the platform is well established at over half a decade old and is backed by the experience and stability of Cubic Transportation Systems, a recognized leader in the transit industry worldwide. Umo's platform technology is made up of six unique mobility solutions. This allows agencies to build a configurable platform by selecting the solutions that work best for their communities.
We launched the Umo brand out of the desire to make big-city capabilities like contactless payments and account-based ticketing accessible to all cities regardless of their budgets. Too often, public transportation providers are asked to do more with less. Umo is changing that, allowing agencies to roll out traveller-friendly payment services with real-time information in no time. It's all part of our intelligent open software that's modernizing transportation networks to be innovative, reliable, and continuously improving. We call it realizing urban mobility through digital transformation. But others refer to it as engaged travellers, a stimulated local economy, a connected community — and mission accomplished.
Umo is more than transit technology, though. Our team is made up of energetic, diverse, and dedicated mobility fanatics who believe that transportation should be accessible to all. It's our mission to make travel fast and simple for riders around the world.
Our diverse team represents the communities we serve. Currently, our team is spread across three different countries and ten different states, and we aren't done expanding. We all bring different backgrounds and strengths to the table with experiences in technology, operations, payments, retail and directly from the transit agencies we serve.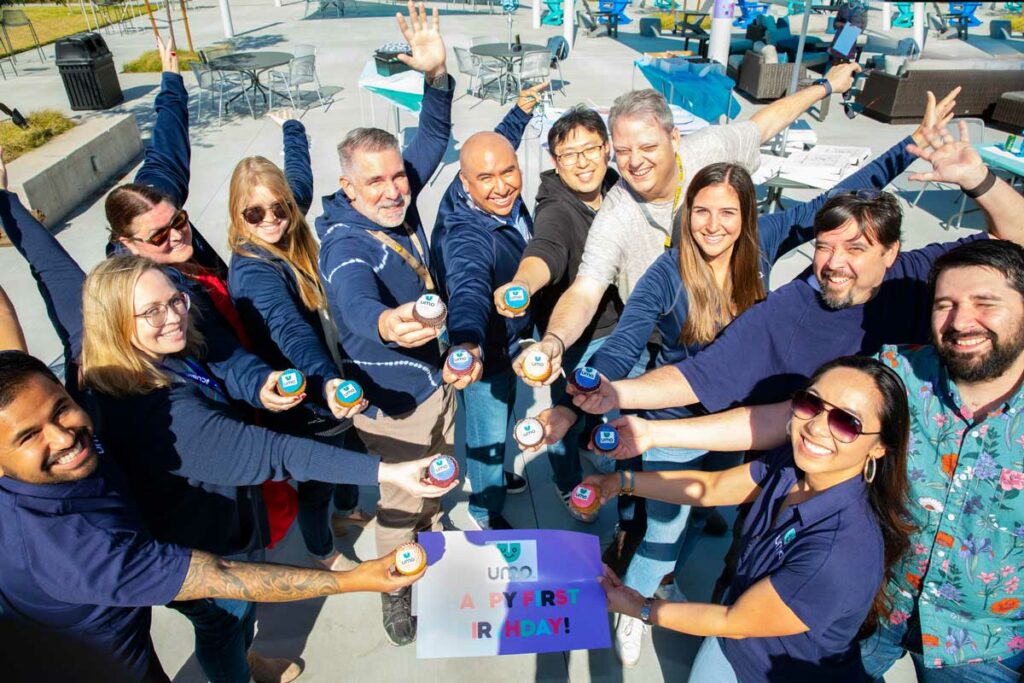 Throughout this first year with the Umo brand we listened and learned a lot because part of being agile is always looking for ways to better serve our customers and adjusting to the changing needs of the world around us.
In the year since our launch, it's our hope that we've made life easier for the riders and transit agencies we serve. We hope that simplifying travel has given you time back for more family dinners, more hobbies, more sleep or whatever it is you enjoy most. So, now it's time to applaud those accomplishments because who doesn't love a birthday celebration?!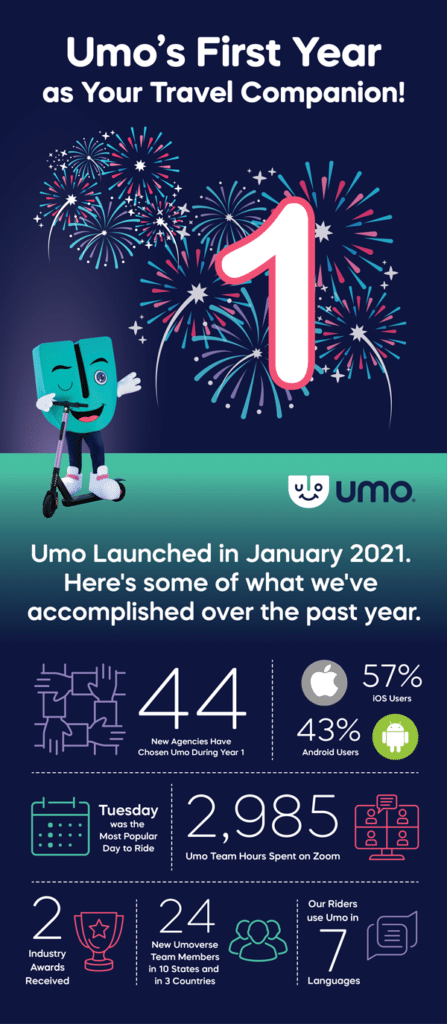 Milestones
67 transit agencies have partnered with Umo to simplify their public transportation network for passengers. In addition, we've added 24 new team members to the Umoverse to help serve our customers and support the growth of the Umo brand.
Awards
In partnership with Taoti Creative, Cubic Transportation Systems' animated video "Meet Umo" received the 2021 Hermes Creative Awards in the electronic media category. The colorful video was launched with the Umo platform and umomobility.com to educate agencies and riders about the simplicity and convenience of the solution for a safe, seamless, and stress-free travel experience.
Umo App received the "Mobile App Innovation of the Year" award in the fifth annual Mobile Breakthrough Awards program, a leading independent market intelligence organization that recognizes the top companies, technologies, and products in the global wireless and mobile market. With over 2,600 nominations, the Umo team was recognized for their efforts to develop Umo App into a transformative full-service app for transit riders.
Umo Mascot
We unveiled the newest member of the Umo team! The Umo mascot is a life-size embodiment of the Umo travel companion. Umo has already traveled to a handful of cities and is currently hard at work crafting content for a social media debut. We're looking forward to more public Umo appearances in the upcoming year, and can't wait for our transit agency partners, passengers, and the community to meet Umo for a photo op!
Marketing Partnership
In 2021, the marketing team had the opportunity to travel to our transportation agency partners Greenville Transit Authority in Greenville, South Carolina and Ventura County Transportation Commission in Ventura, California to create new Umo content. We had a great time experiencing their transit networks, engaging with staff, meeting transit riders and capturing photos and videos in person.
We look forward to seeing what Umo will accomplish in 2022! Keep checking back at umomobility.com for updates as our brand continues to evolve.
Help us wish Umo happy birthday!